All photos personal
Architecture is one of our most visual links to the past. It is a bridge between the present and those before us who have shaped our cities. I am a strong supporter of historic preservation and adaptive reuse, strategies which ensure that older buildings continue to have life. The south end of New Bohemia in Cedar Rapids, Iowa is full of Czech heritage and is a great example of how to save buildings from the wrecking ball by transforming them into viable businesses and homes. I was delighted to explore this district through a tour organized by Save CR Heritage, a nonprofit that champions preservation.
As a transplant to Cedar Rapids, I am forever learning about its rich cultural history. I come from northern Iowa where there's a good dose of Norwegian heritage. I attended school with plenty of Hansens, Olsens, Larsens, Andersens, and Petersens (and every spelling variation you could imagine). Living close to the Minnesota border, I might know far too many Ole and Lena jokes.
I am also a typical American in that my ancestors immigrated centuries ago. I don't know what it's like to have a direct connection with "the old country." But in Cedar Rapids, there are many residents who are only third-, fourth-, or fifth-generation Americans who can easily trace the year when their family moved to Iowa.
Eastern European immigrants were drawn to Cedar Rapids because of the numerous mills, factories, and meat packing plants. As those companies were located along the river, neighborhoods sprang up around them (more history about this era). While New Bohemia is only a recent moniker for this area, the Czech influence and turn-of-the-century architecture is hard to miss.
Each building on the CR Hearts tour was affected by the 2008 flood and many were once in danger of being torn down.
Lunak House
I started at the Lunak House, which is available as an Airbnb rental. This family home was built by Jarislav and Rose Lunak around 1915. Jarislav worked at Sinclair, a major meat packing plant, and the family stayed in this home for five years.
It was owned by numerous families in subsequent decades, virtually all with Czech surnames, according to owner Emily Meyer of New Leaf Historic Properties. The first floor was ravaged by flood waters and had to be completely gutted. I appreciate the lovely modern kitchen, particularly the stellar cabinet color. The upstairs has two bedrooms, a bathroom, and a mechanical closet as a safeguard against future flooding.
Novotny House
The Novotny House is a family home that has been revived as an antique store called Little House Artifacts on the first floor and an Airbnb rental on the second.
Nicknamed the Heart House, this structure was on the chopping block before it was rescued by owner Beth DeBoom, who is also the president of Save CR Heritage. With the original frame and hardwood floors, it's easy to imagine what this house might have looked like in its heyday.

According to its website, the renovated space "is on the National Register of Historic Places and is one of the neighborhood's few remaining original residential structures."
The White Elephant
Next door is The White Elephant or the Vavra House, which is from circa 1916. This was another major save, though it was moved several blocks on 3rd St from its original location. Michael Lynn Richards, a previous restorer of this property, said in a video right after the 2008 flood:
"History is made day-to-day by real people. Historic buildings aren't necessarily a grand cathedral, a museum, or a theatre. Our history is very much tied up in small homes and traditional neighborhoods." I heartily agree.
Its doors are facimiles of the originals, which are hanging in another business in the district. The ornamentation on the facade and the window pediments are also recreations taken from historic photos of the building's early days (see one here).

The main commercial floor was originally home to a jewelry store and it was announced on the tour that a jeweler is moving in once again. The upstairs has the former living quarters and is being converted into either an Airbnb or a studio apartment.
The original hardwood floors from the first and second floors
Park Fulton Filling Station
Across the street is this old Skelly gas station from 1939. This is one of many vintage service stations still scattered across the city. Its location used to be along the Red Ball Route, a highway that connected St. Louis to St. Paul (you might say it's the original Avenue of the Saints).
This building was most recently the site of Red Ball Printing, which was responsible for an admirable restoration, and, in keeping with its automotive roots, is currently being turned into an office for a body repair shop.
Friendly Service Station
Kitty-corner from the gas station is this 1935 Friendly Service Station. It's done in the Mission Revival Style, which you can see with the light brick, arched parapets, red terracotta roof tiles, and arched windows.
I love all of the brick detailing over the windows, along the roofline, and in the center (which would have been over the original doorway). On a monochromatic exterior, it's easy to miss these touches if you don't look closely.
The former station has been reborn as Mad Modern, a furniture store that specializes in pieces from the 1950-1970s. You can still imagine how it would have looked with cars parked inside.
Ideal Theatre
My personal favorite stop on the tour is the Ideal Social Hall. This had been a paint store for many years, and with all the signage and damage from the 2008 flood, I never even noticed this is clearly an old theatre until its recent restoration.
Tilework in the entryway. So impressive that it has withstood flood waters multiple times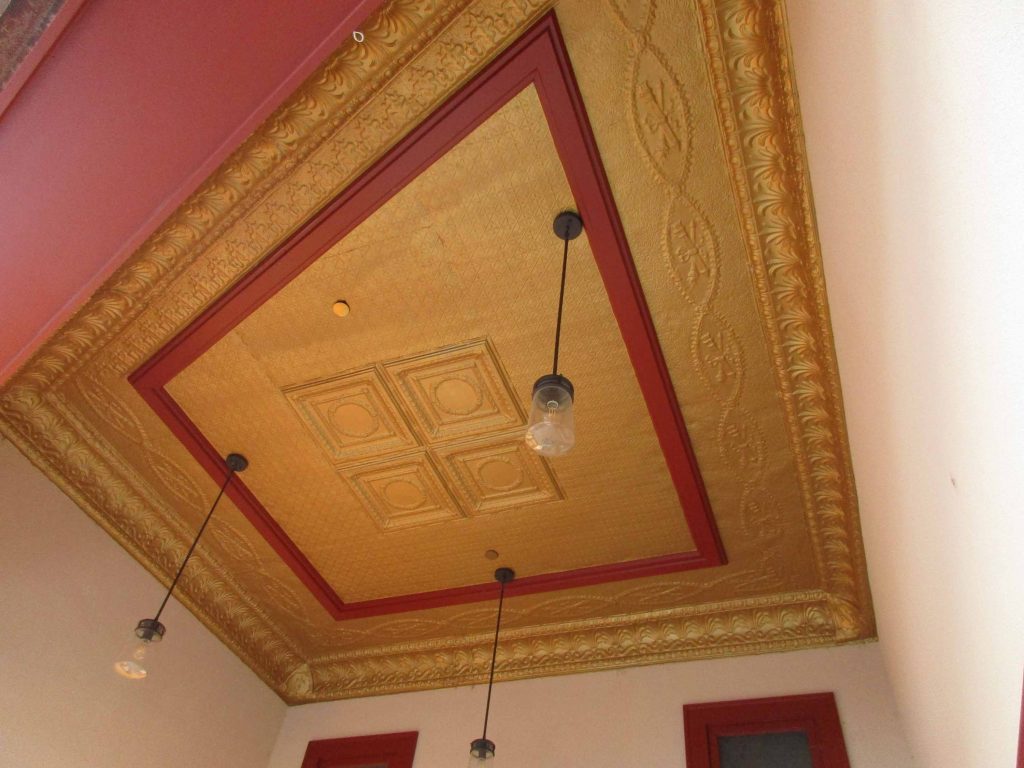 The entryway ceiling also harkens back to a day when extra care was given to how a building made a first impression. The Ideal was built in 1914 and was the only theatre outside of downtown at the time. Imagine standing in line under this gorgeous feature!
What makes the Ideal worthy of preservation is its significance to the immigrant community that it was built for. Standing within a stone's throw of the Sinclair plant, the theatre showed Bohemian language films for six years.
The original tin ceilings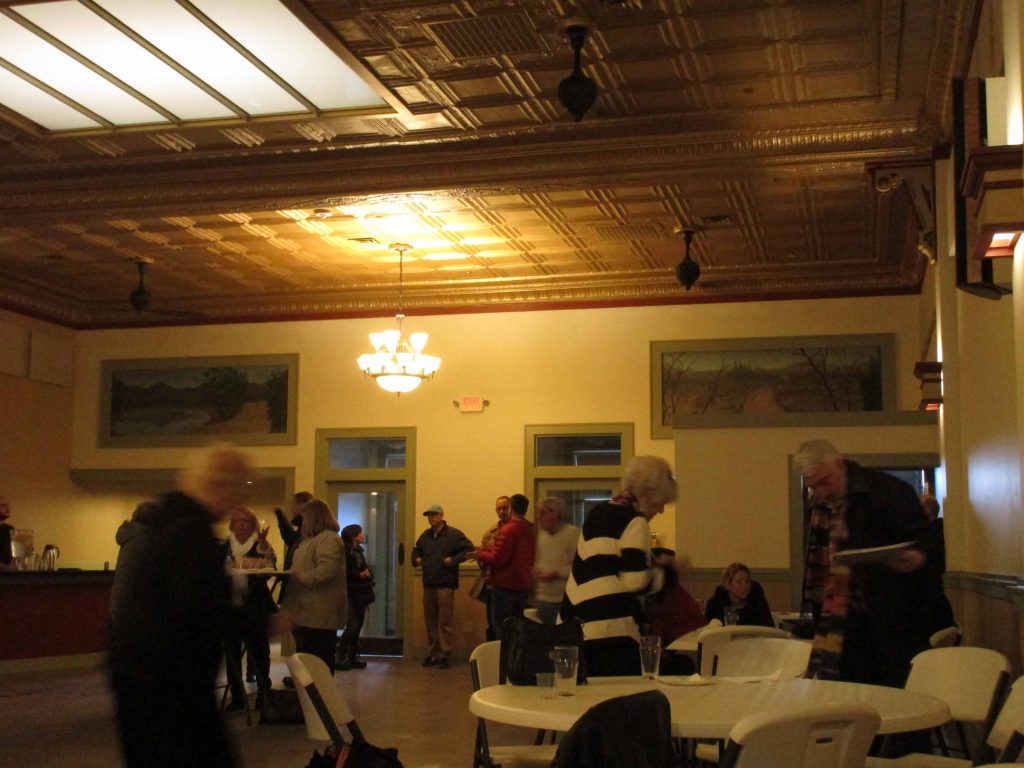 Here's a retro idea – let's bring back murals. These panels were done by a local artist and have been lovingly restored after someone once ran piping right through them
New Bohemia is an incredible district full of vibrant buildings that have meaningful legacies that matter in the here and now. We need to preserve properties like these so we can celebrate the past as we keep moving forward into the future.
What are your favorite buildings in NewBo?