I have always had a soft spot for Second Empire architecture. Imposing, ornate, detailed, luxurious – they look straight out of a book. Perhaps it helps that the iconic houses from The Addams Family, Meet Me in St. Louis, and even Psycho are Second Empire. Iowa proudly houses our governor in a splendid 1869 mansion – Terrace Hill.
This Second Empire residence was built for Iowa's first millionaire. During their heyday, Second Empire homes were not only fashionable but modern. As with any upper-class estate, it was considered a tasteful way to display wealth. With its 90-foot tower, mansard roof, and sumptuous interior, Terrace Hill is an outstanding example of mid-nineteenth architecture.
A Prairie Palace of the West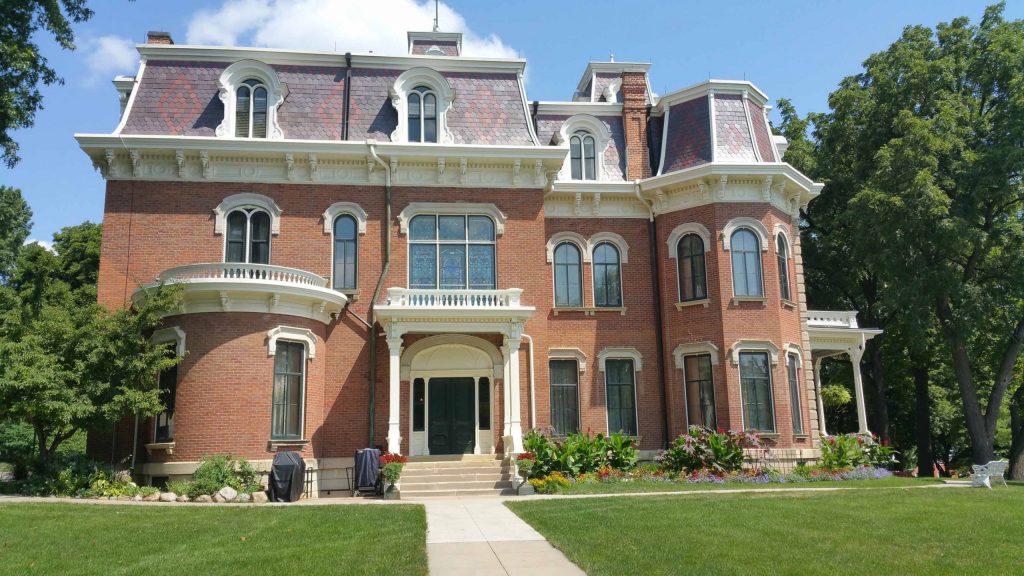 Terrace Hill is a textbook representation of Second Empire. Its first and second floors are largely untouched – visitors are treated to a nearly pristine experience of what it was like to live as upper class in the 1850-1880s when Second Empire was at the height of its popularity.
"In addition to the traditional mansard roof, typical Second Empire residences used dormer windows with elaborate and varied surrounds, stone ornamentation for door and window openings in masonry buildings, multi-colored slate shingles, elaborate bracketed cornices, and iron cresting. Frequently, multi-storied mansard roofed towers, rambling verandas, porticos, balconies and bay windows were used to create picturesque and flamboyant house designs" (1).
Terrace Hill was built for businessman Benjamin Allen, who tapped Chicago architect William Boyington for the design (more on him later). A major home project like this frequently made headlines in this era, and Terrace Hill was breathlessly covered by both the social and business newspaper sections. According to an 1869 article in The Republican, Terrace Hill was deemed a "costly suburban palace" and "one of the finest, most costly, and tastefully completed private residences in the country" (1).
If you like modern minimalism, steel yourself, Terrace Hill is its polar opposite. Richly ornate, it's a wonderful assault on the senses. At 18,000 square feet, every single detail is part of an aesthetic whole. Your eyes are dazzled by stenciled walls and ceilings, marble fireplaces, heavy wood trim, original light fixtures, and fine plasterwork. With 15-foot-high ceilings on the first floor, there's plenty of vertical space to impress guests.
As prominent members of the Des Moines social scene, the Allens often held soirees. The housewarming party for Terrace Hill, which coincided with their 15th wedding anniversary, had a guest list of 700 people.
"Allen supposedly spent $8,000 on the food, flowers, and entertainment – which would be equivalent to nearly $150,000 today. The food, prepared by a Chicago chef, was served at 10:00 pm in the dining room. The meal included, 'Two fruitcakes weighing twenty-five pounds each, ice cream molded in the figure of George Washington, a twenty-five pound lady cake, oysters, boned turkeys in colored jellies, and a variety of meats'" (2).
The grand staircase is crowned by an intricate stained glass window. At 9 x 13 feet, this colorful panel straddles the landing between the first and second floors. Neither religious nor patriotic, the design has a floral motif. I wonder if anyone has counted the number of glass pieces!
According to my tour guide, the stained glass was added by the second owners, the Hubbells, in the late 1880s (a deduction they made by the omission of any mention of the window in newspaper coverage when the home was originally built).
Did the word "modern" earlier make you chuckle? In 1869, features like gas lights, indoor restrooms, a lift, and both hot and cold running water were major innovations (2). Each one was costly to install, operate, and maintain – only the very wealthy could afford this level of comfort.
A Maison for Des Moines Entrepreneurs
If you want to understand architecture, you need to look at historical context. Plus it's a fun way to study bygone eras! Terrace Hill's completion in 1869 isn't random. This was the era of steam, railroads, and steel. For context, Des Moines had only been Iowa's capitol for a mere 12 years. The Civil War had just ended four years earlier. Ulysses S. Grant had recently taken office, and the U.S. only had 37 states. Edison's patent for an electric light bulb was a full decade away. The Golden Spike on the First Transcontinental Railroad went into the ground the same year that Terrace Hill opened its doors.
The railroad is significant because it's a direct link to both Terrace Hill owners. Allen moved to Iowa in 1848, and his uncle was none other than Captain James Allen, who founded Fort Des Moines as an Army outpost. Benjamin quickly established himself as a man invested in Des Moines and Iowa: he was a banker, land owner, real estate investor, city council member, and senator. He even advocated for legislation that approved for the construction of a new capitol building (read my post on it here). He was also instrumental in establishing the Rock Island railroad in Des Moines, though speculating with railroad trust funds ended in his financial demise (2).
Terrace Hill cost $250,000 to build in 1869. Allen was forced to liquidate his assets 15 years later, with the house passing to Frederick Hubbell for the low price of $60,000. That's not happy math in any era. But Hubbell was another prominent businessman who valued the home's prestige, which is ultimately why this mansion still exists today (3). He and his family occupied Terrace Hill for over 70 years.
Hubbell was also a Des Moines transplant, moving there in 1855. Though he started in law, he was what we would call a developer today. He financed the first streetcar line in Des Moines, was involved with constructing a railroad line to Ames, ran a life insurance company, and even established the waterworks for Des Moines (which later passed to city control) (4).
While the Hubbells did not alter the architecture of Terrace Hill, they were responsible for several mechanical and structural upgrades. In the mid-1920s, the second generation of Hubbell occupants added electricity, an elevator, and an outdoor pool – all acceptable markers of prosperity in the 19th century (4).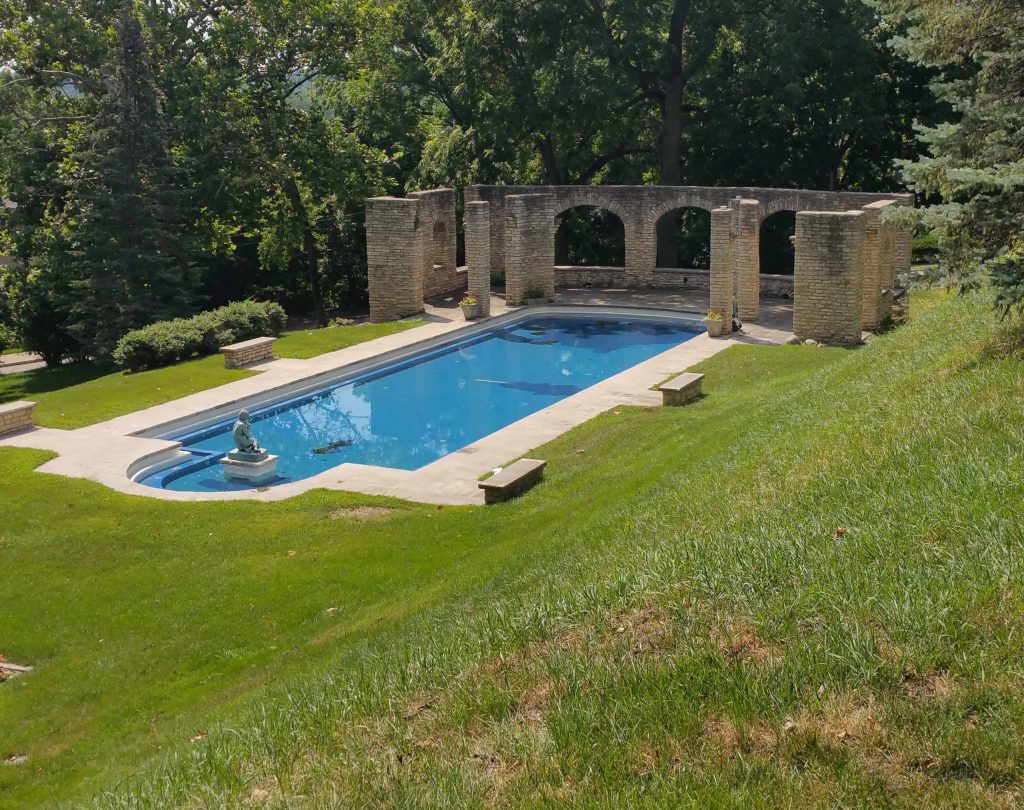 "Beneath the concrete floor, several rooms housed water pumps, a lavatory and dressing room for men, and an observation area with windows that allowed viewers to watch swimmers from below the water level" (1). The pool was filled in during the 1990s but thankfully revived as a reflecting pool with the same shape in 2015 (more on that backstory here).
A Home For Governors
Terrace Hill was a private residence until 1957. If you are a lover of historic mansions, you know how frequently these gargantuan properties would sit idle for many years before they were purchased by the government or a nonprofit. Terrace Hill is no exception and was vacant for 15 years before it was donated to the state in 1971. It became a family home once again to Governor Robert Ray in 1976 (3). Since then, the Branstad, Vilsack, Culver, and Reynolds families have lived in the top floor of the mansion while the first two floors are open as a museum.
The third floor was originally servant quarters and has long since been altered for a modern family. Naturally this living space isn't available to the public, but OPN Architects provides this glimpse of the current kitchen. And yes, that very cool tower can only be accessed from the third floor.
Fun fact – states aren't required to offer a governor's mansion (though the majority do) and neither are governors mandated to move in (though very few decline the offer). The architecture of these unique residences is as expansive as U.S. history.
Iowa doesn't have the largest governor's mansion by any stretch – that honor belongs to our Illinois friends at over 45,000 square feet (Terrace Hill is a modest 18,000 square feet). But I would argue that Terrace Hill is one of the most ornate executive homes in the country. Only state mansions for Missouri (1871), California (1877), New York (1875), Illinois (1856), and Utah (1902) use ornate styles like Second Empire or Italianate. Though we should all tip our hats to La Fortaleza, a UNESCO Heritage site where the Governor of Puerto Rico resides and has done so since the early 1500s.
An Architectural Legacy
One of the original University of Chicago buildings that Boyington designed. Image borrowed from Wikipedia
I don't always get curious about the architect behind a building, but Boyington perked my attention. What intrigued me was finding patterns across his portfolio. Sometimes architects have a signature style or a hallmark that they stamp into the bones of their designs. While Boyington employed several architectural genres over his career, the common thread between them all is a commanding presence.
Many of Boyington's works perished in the great Chicago fire, but you can see the parallels between these now-demolished sites: the first University of Chicago, the 1885 Chicago Board of Trade Building, the Illinois State Building for the 1893 Chicago World's Columbian Exposition.
Borrowed from Wikipedia
Those buildings still standing all display a similar vibe: the Chicago Water Tower (1869);  Joliet Correctional Center (1858), which you might recognize from The Blues Brothers; Rosehill Cemetery Gatehouse (1858), and completion of the Illinois State Capitol (late 1880s).
Boyington was well-established by the time he was hired to design Terrace Hill. Much like his commercial buildings, his residences are dominating and elaborate. Thankfully, three of Boyington's Second Empire mansions exist today – the General Dodge House (1869) in Council Bluffs, IA; Terrace Hill; and the Hegeler Carus Mansion (1874) in LaSalle, IL.
I hope you enjoyed this virtual tour of Terrace Hill! When life calms down a little, I highly encourage you to see this in person and learn more about Iowa history.
References