The Brilliance of Sullivan's Jewel Box Bank in Grinnell
When was the last time you admired the architecture of your bank? While modern financial institutes rarely have interest in making an aesthetic statement, the banks of yesterday purposefully adopted an opulent atmosphere. Just look to the Sullivan "Jewel Box" banks, which use expressive ornamentation to create a rich ambiance. The Merchants National Bank (1914) in Grinnell, Iowa, is a prime example of this luxurious style.
A Cut Above the Rest
You simply can't miss Merchants' National Bank (which lives on as the Grinnell Area Chamber of Commerce), which is located on a prominent downtown corner. The structure demands your attention, even if its roofline is respectfully even with its neighbors. The massive cartouche is unique to any of the Jewel Box exteriors.
A cartouche is an oval design with convex surface (like those mirrors in parking garages) and is typically encircled by ornamental scrollwork. This one, which encircles a stained glass window, has a distinctly Art Nouveau feel. Its sweeping organic lines are a hallmark of Sullivan's ornamentation. In fact, his style is so distinct that it is referred to as Sullivanesque when other architects mimic it.
Carved tiling around the entrance.
 A Vault of Creativity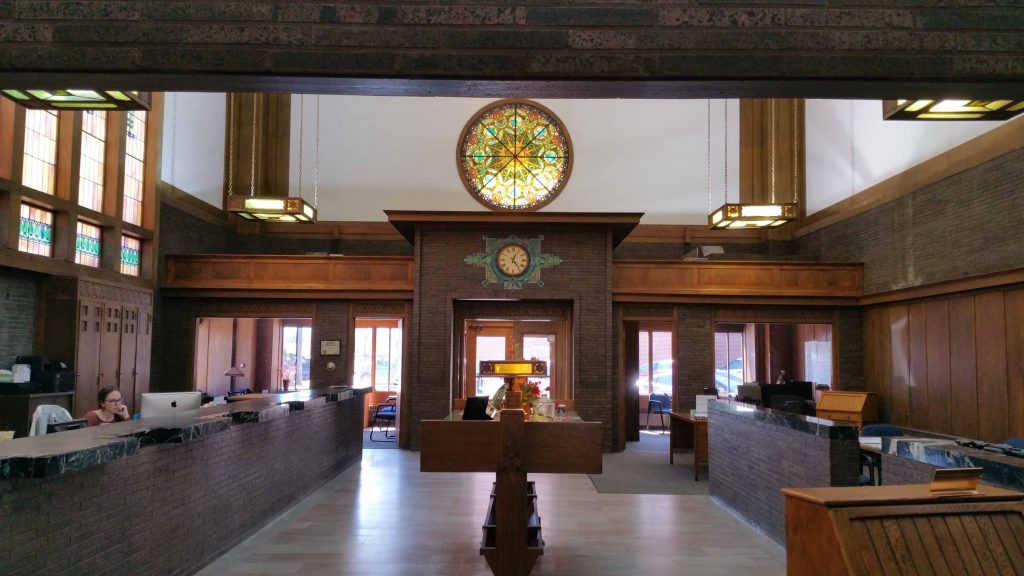 The bank's interior has a wealth of craftsmanship. There's stained glass, mosaic tiles, marble, carved wood, millwork, wood paneling, and brick everywhere you look. The entire atmosphere glows thanks to the contrast of earth tones and colorful glass.
Sullivan had unique opportunities to develop his signature style. He enrolled in MIT at age 16 (granted, this was 1872) and then studied at Ecole des Beaux-Arts in Paris. He became a full partner with Dankmar Adler in 1883 through 1895.1
You might recognize their work in the Chicago Stock Exchange (the building is demolished but the original trading floor and main entrance is on display at the Art Institute of Chicago). Or if you know your 1893 World's Fair history, Adler and Sullivan did the Transportation Building. This article by Dwell gives a great visual tour of their style.2
Sullivan also mentored Frank Lloyd Wright during a five-year period. The link between their architectural styles is undeniable, even if Wright ended up eclipsing his former teacher in the end.
This clock mosaic was done by Louis Millet (more on him in a moment). This feature shows how Sullivan could take something practical and mundane – a clock – and elevate it to the level of art by creating a beautiful design.
Millet is also responsible for the bank's three stained glass windows. This series of 9 panels faces the east and measures 15 feet by 40 feet wide. Light positively floods in and illuminates a vast majority of the space.
It may be tempting to "read" these windows as religious works. They certainly evoke a cathedral-like atmosphere. But on closer look, you can see Millet-Sullivan used a simple (but secular) combination of geometric and organic shapes.
Overhead, a skylight in a range of blue and subtle lilacs recreates the sky. The scale of this installation runs almost the entire length of the interior, allowing a wash of filter light to envelope the space.
But the pièce de résistance is the rose window.
"The sunburst above the door centers about a kind of 'rose-window' in stained glass, and is a remarkable fantasy in superimposed circles, squares and diamonds, with both naturalistic and geometric details. As a study in decorative design per se it is of great interest … like similar features on other late buildings, it must be ascribed to Sullivan's innate tendency to burst out at times into overwrought lyricism" (as quote in the National Registry nomination form from a 1935 book by Hugh Morrison titled Prophet of Modern Architecture).3
Side note – perhaps modern architecture fails to charm me because it lacks "overwrought lyricism" ?
Reminds me of a kaleidoscope
Millet may not have the name recognition of Sullivan or Wright, but his legacy isn't lost to history by any means. He founded the Chicago School of Architecture in 1893 and was its dean while also teaching at the Art Institute of Chicago. Notable artworks can be found at the present-day Chicago Stock Exchange, Union Station in St. Louis, and one of the two stained glass domes at the Chicago Cultural Exchange. Some of his work is even part of the Musee D'Orsay collection.
To my local Cedar Rapids fans, our city also has a Millet connection. He designed the windows of the now-demolished First Christian Church. These were thankfully salvaged and preserved as separate installations at the Downtown Public Library, Linn Hall on Kirkwood's campus, and PCI.4
Sullivan also collaborated with Kristian Schneider, a Norwegian immigrant who was a sculptor. Schneider is credited for this frieze of gold terra cotta tiles.
"Ornament often gives a structure an emotional, even dreamlike, character"5
From a preservation perspective, the Grinnell bank is significant because it remains largely unaltered:
"This Iowa bank retains most of its original ornament and glass and in particular, its exterior remains as Sullivan designed it. Small in scale, it is monumental in effect – the exterior is bold and solid – the interior is aglow with light and color."2
In my personal opinion, the bank is noteworthy because it is a study in architectural motifs. You can "read" a building with the same skills used to interpret literature, music, and art. You must use your eyes to find the themes. And this site screams symmetry.
The interior frieze mirrors the finials on the exterior cornice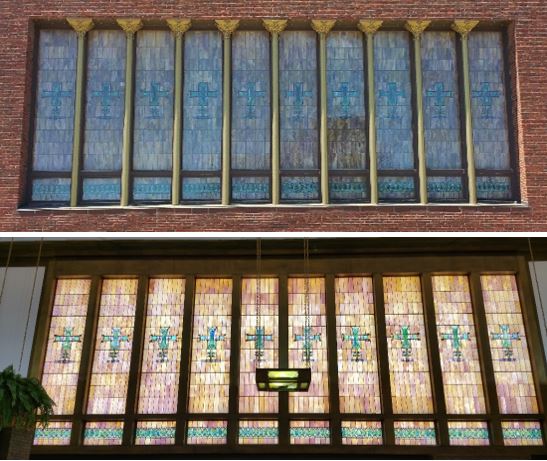 The stained glass offers a different color experience from the exterior vs. interior
You can even see how the ornamentation on the Grinnell Bank (left) parallels the design on the Van Allen Building (1914) in Clinton, IA. Read my post about this beautiful building!
The Merchants National Bank is only one of eight remaining jewel box banks, all of which are located in the Midwest. Iowa is home to three! One is now Popoli's restaurant in Cedar Rapids and the other is the Algona Area Chamber of Commerce (on my bucket list to visit!). I hope to experience them all in the near future.
References